Your Best Guide to Dover Water Damage Remediation
5/26/2021 (Permalink)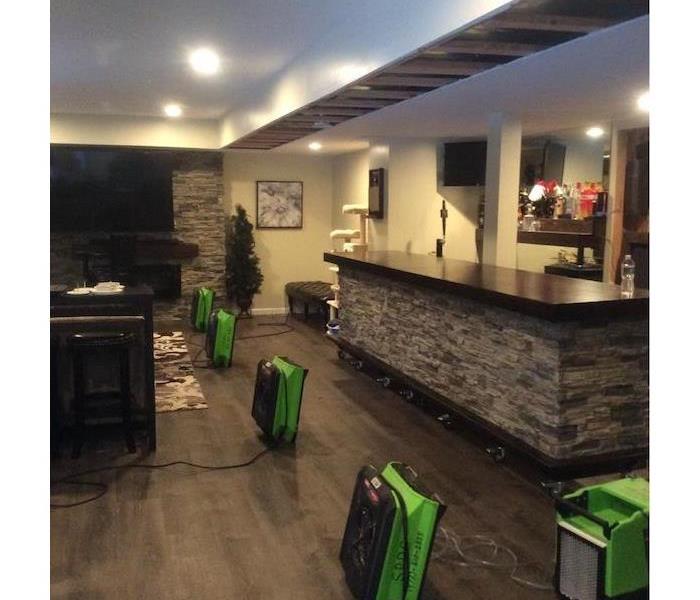 Water damage restoration is no DIY project. SERVPRO has the manpower and equipment for any size disaster.
The Risks of Poor Water Cleanup in Dover Homes
It is not uncommon to be among the Dover homeowners that seek to provide the cleanup and repairs that your home requires to the best of your abilities. While this can save you money and prove a frugal and educational approach to owning a home, it is not always the best approach. When you get faced with water damage incidents, the spread of the damage can be much farther than the surface might show. Inadequate cleaning and drying of water damage can prove destructive and hazardous to your property and those that live within it.
The trouble with DIY water cleanup in your Dover home is that many homeowners have little idea of their success in removing all of the moisture and dampness from affected materials. It is often more complicated than mopping and toweling up water from the floors. Pooling water can penetrate flooring joints and seams, wick up drywall, and entirely ruin ceiling materials depending on the source of the water damage. Without the experience and appropriate equipment, much of this damage can go unnoticed by even the handiest of homeowners.
Our SERVPRO team offers a thorough inspection of the property from the time that we arrive so that we are never unaware of the extent of the water damage that we face with the cleanup. While surface water might get addressed with mops, we also have to address the damage to exposed materials to prevent their degradation and warping. We have equipment such as our large drying mats and weighted remote-controlled extractors that can help to pull moisture up from subflooring to the surface for removal.
Additionally, failure to clean and dry up water damage appropriately can allow for the growth of mold and mildew. Both of these could potentially cause health effects for the household, but they can also prove a destructive force for the materials housing the colonies. Our SERVPRO team can ensure the area gets thoroughly dried to stifle the likelihood of secondary effects like mold growth.
While you might want to take care of problems in your home on your own, water damage should get left to our SERVPRO of Dover / Stillwater water restoration specialists. Give us a call today at (973) 810-2825.