Fixing a Fire Damaged Living Room can be Overwhelming for Your Stanhope Home
10/13/2019 (Permalink)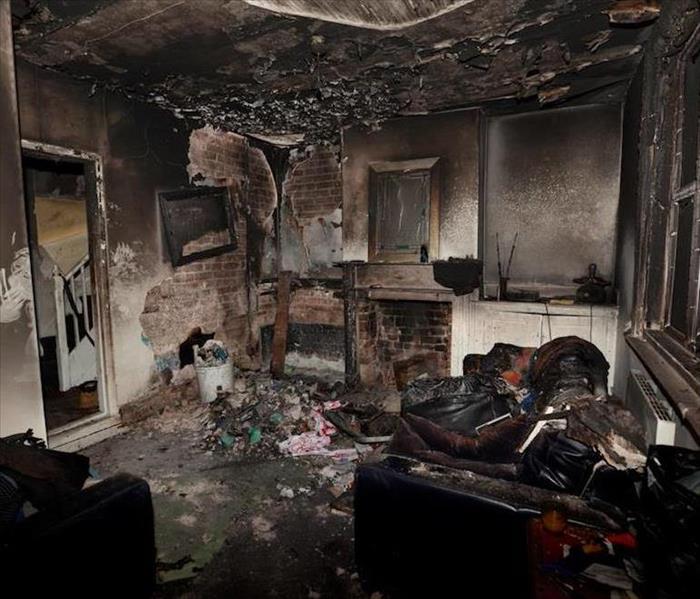 Fire damage in any part of your home can be overwhelming. Contact SERVPRO right after the fire fighters leave for best remediation results.
How Dry Cleaning Can Restore Your Fire Damaged Home In Stanhope
When your home and personal belongings are burned by a fire, your first instinct may be to start washing all of it. However, not everything can withstand water without getting further damaged. A fire in the living room can leave your drapes and upholstery fabrics a smoky mess, but these materials are very particular. Typical wet cleaning methods might not be the best approach for restoring your home.
SERVPRO uses dry cleaning techniques for fire damage in Stanhope homes when the affected materials are not strong enough for aggressive wet cleaning. Dry cleaning is also used in the initial, pre-wet cleaning process where light to medium soils, soot, and dust are brushed and wiped away. In the case of the living room fire, dry sponges and vacuums are effective methods of getting rid of the initial layers of smoke before deep cleaning begins.
A living room fire can mean that furniture, rugs, curtains, lamps, and walls are ruined by smoke. In the case of upholstery and drapery, a highly specialized process is employed to clean these fabrics without ruining them. Some wet cleaning methods can shrink drapery fabrics. Dry foam shampoo applies detergent and clean drapes with little to no moisture required. When upholstery needs to be dry cleaned, a series of steps are begun to ensure that these materials are cleared of the effects of smoke. In fact, SERVPRO has 8 upholstery cleaning methods to ensure a thorough restoration.
When textiles are too sensitive to be cleaned with wet products, they can be dry cleaned with solvents made from oil instead of water. Our dry cleaning machine is safe for most upholstery and drapes, but some fabrics are still better off with hand-drying techniques. Heatable upholstery and drapery solvent can be applied directly or with a towel and then patted dry. All surfaces are toweled multiple times and in different directions to agitate the fibers and shake loose any remaining smoke molecules. After your fabrics have been cleaned, the final restoration can begin.
Get the right kind of cleaning for your expensive fabrics after a living room fire. Contact SERVPRO of Dover / Stillwater at (973) 810-2825 for fire restoration services. We're Faster To Any Size Disaster.
Click here to learn more about Stanhope.