Our Experts Discuss Steps For Dealing With Water Damage In Your Dover Retail Store
11/15/2019 (Permalink)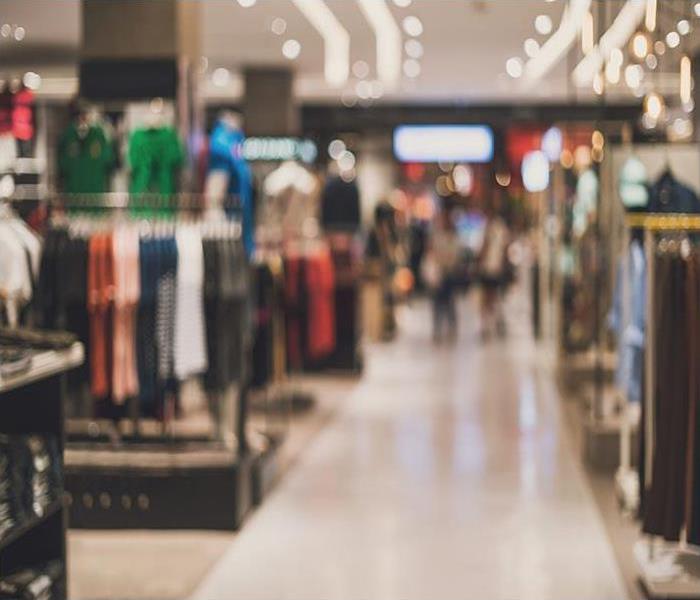 Maintaining a professional, clean, and inviting retail store environment is part of running your business successfully.
Steps for Dealing With Commercial Water Damage In Your Dover Retail Store
Maintaining a professional, clean, and inviting retail store environment is part of running your business successfully. That's why it is essential to take water damage in your retail space seriously. If you experience a water intrusion incident of any magnitude, do not let it interfere with your business operations by closing your doors for long or risking mold growth that can turn your customers away.

Commercial water damage in your Dover retail store can cause loss of inventory and damage to shelves, floors, and building materials. Recovery involves completing certain activities to ensure that your business returns to its usual daily operations. You need a well-developed strategy to ensure timely and orderly recovery.

Ensure safety
Even though restoring normal store operations is a priority, the safety and health of your staff and customers is also a major consideration. When you re-enter your water damaged retail store, it is essential to do the following:

• Evaluate the affected areas. Check if there is damaged electrical wiring, falling stock, and uneven flooring.
• Water flowing in the premises may have caused the stock to shift, so be on the lookout for falling objects.
• Have the building's maintenance personnel or a professional examine the electrical system before turning on the power.

Basic cleanup
The staff can begin taking the merchandise to an elevated level and start extracting water using sweepers and squeegees while waiting for cleanup experts. The manager should record and document the damage and expenses incurred. Rapid action by the staff and store manager can significantly reduce the time required to perform repairs, leading to efficient recovery.

Professional water removal and drying
Trained and experienced professionals handle water loss incidents better because of access to sophisticated restoration equipment. Our SERVPRO technicians can inspect the affected areas to determine the appropriate cleanup methods and equipment to use. If standing water is present, we can use electric submersible pumps to remove it. Our technicians can also use thermal imaging cameras to detect the level of moisture on surfaces.

Our team also knows the adjustments to make on environmental elements like humidity and temperature to dry your retail store effectively. We can use axial air movers to speed up evaporation and minimize drying time. Axial air movers deliver lower pressure at high volume, covering a vast area of affected surfaces and materials. Our SERVPRO crew can also place dehumidifiers in strategic locations in your retail store to allow the humid, moist air in the building to be moved into the units and the dry, warm air they discharge to circulate back into the ruined areas.

When a water loss problem occurs in your Hopatcong, Jefferson, or Stanhope store, SERVPRO of Dover / Stillwater can help. We have the expertise to handle any retail store water damage. Call us today at (973) 810-2825.
For more about Dover click here.