We Put The Flames Of Worry Out In Dover After A Fire
5/23/2022 (Permalink)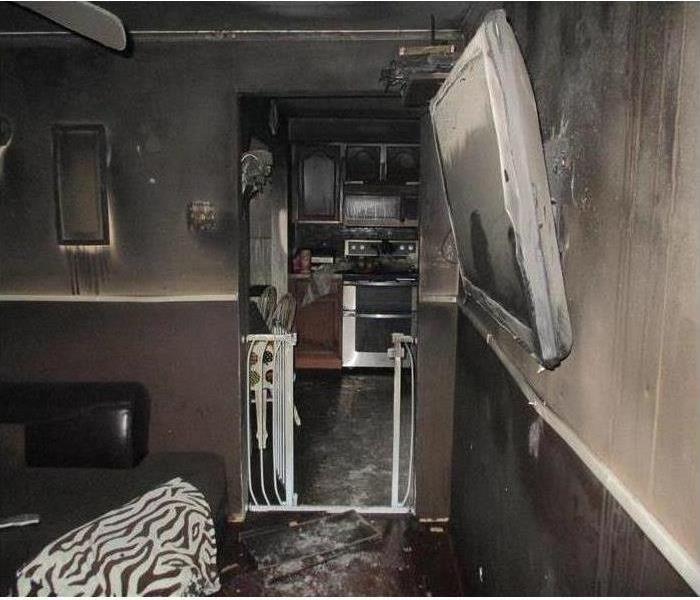 Our certified technicians are ready to restore your home 24/7 after a fire. We have state of the art equipment to remove soot and smoke damage.
Fire Damage Dover – Kitchen Stove Fires
One of the most common causes of a fire in the home is grease fires that begin on the kitchen stove. A fire can begin almost anywhere in your home. However, a kitchen fire can start due to inattention, distraction, and bad luck. If a fire starts, get everyone, including pets, out of the house and call 911. First responders can deal with the fire while your family remains safe.
The technicians at SERVPRO in Dover understand how stressful fire damage in your home can be. Cherished heirlooms may be lost. Your life is disrupted. Even the material used by the fire department to control the fire causes damage to your home and contents.
Where to Begin
Homeowners are often overwhelmed by conditions in their homes and wonder how their families can recover. Our SERVPRO crew chief can develop a plan to put everyone's mind at ease. The first step is to assess the loss, e.g., is it safe to enter the home? What rooms are impacted? What is the extent of the fire, smoke, soot, and water damage?
SERVPRO can also provide board-up services to cover broken windows and tarps to cover the roof to prevent further damage. We also help manage the paperwork required by your insurance company.
Restoration Of Your Home
Depending on the extent of the damage, restoration of your home may require the removal of water from basements, floors, and walls. We clean all surfaces. We wash all hard surfaces, and walls are wiped down, and all of your contents can be removed and cleaned.
Fire-damaged structures such as cupboards, countertops, and even wall structures may need to be replaced depending on the extent of the damage.
Smoke odors may remain even after a thorough cleaning. We deploy ozone generators and thermal fog deodorizers to remove smoke odors in your home. The occupants of the house may need to leave home for a few days while this process is applied.
We work closely with your home insurance company and contractors to ensure your home is restored after a fire, "Like it never even happened."
Call SERVPRO of Dover / Stillwater at (973) 810-2825 for 24/7 service. We proudly serve Hopatcong, Jefferson, Wharton, and surrounding areas. We're Faster To Any Size Disaster.