What Is Necessary to Contain Flood Damage in Dover Properties?
11/14/2021 (Permalink)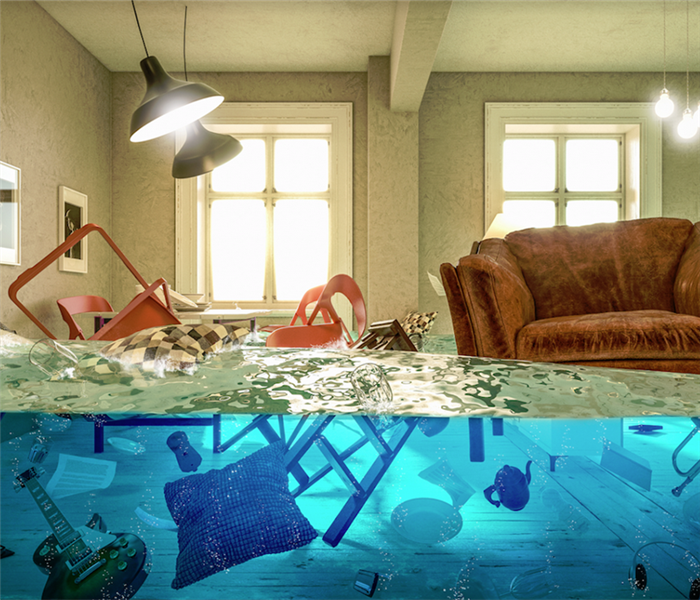 When a recent storm brings a large amount of water into your home, turn to SERVPRO for water removal and flood damage remediation. Call us 24/7.
SERVPRO Focuses on Managing Contamination, Protecting Contents and the Structure After Flooding Incidents
If your Dover property lies in the path of a storm, there is little you can do to protect it from being affected. However, afterward, you need to take action to contain the effects of the resulting flooding. Containing flood damage requires you to know what to do and time such action correctly to be impactful.
Containing flood damage in your Dover house requires addressing several unrelated factors simultaneously. With the situation rapidly changing, there is limited chance to correct any errors. SERVPRO avoids negative outcomes by sending fully staffed teams to ensure every aspect gets timely and sufficient attention.
The three primary aspects that help contain flood damage are:
Tarping and boarding up structure openings
Content pack-outs or move-outs
Controlling contaminants
Storms can create different types of openings in structures by blowing off roofing shingles and shattering windows. Such openings can worsen the damage in your house over time by allowing rainwater, sunshine, and other weather elements into the property's interior. Our SERVPRO technicians install roof tarps and use plywood panels to board-up wall openings. We can also create barriers inside the house using plastic sheets and steel poles.
Floodwater can be laced with chemicals and biohazards, thus contaminating your house. Alternatively, water left to stagnate for some time becomes contaminated due to microbial proliferation. Our SERVPRO technicians spray EPA-registered disinfectants directly into the standing water to manage contamination. That way, we limit the spreading of contaminants while we perform the other tasks, including moving contents.
SERVPRO of Dover / Stillwater can perform various procedures to help you deal with flood damage, "Like it never even happened." Call us at (973) 810-2825.