Everything in My Jefferson House Is Soaked -- Can Professional Recovery Technicians Help My Belongings Survive Flooding?
11/26/2021 (Permalink)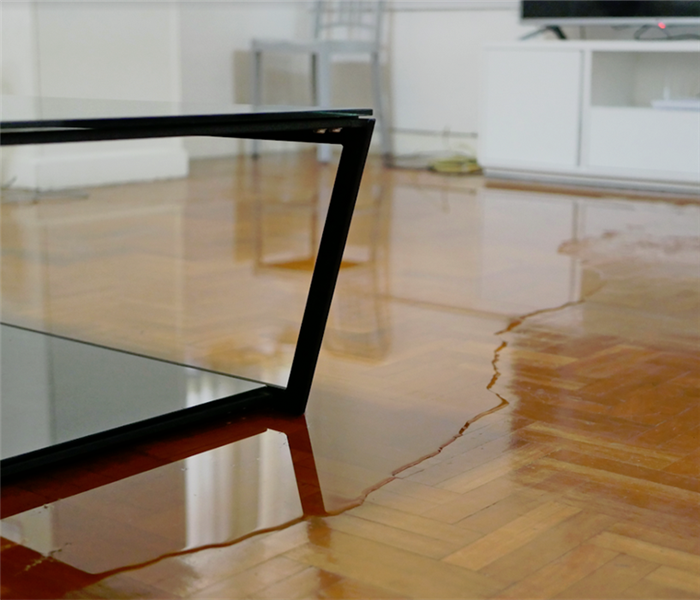 Flooding can quickly overtake your home. Contact team SERVPRO to assess the situation and remediate the flood damage in your home.
Flood Damage Can Threaten the Heart of Your Jefferson Home -- Fear Not Because SERVPRO Has Strategies for Both Structure and Contents
When you are just watching news reports or reading and looking at pictures of flooding, it can be upsetting to imagine your Jefferson home could be next. In our area, summer and fall are hurricane and tropical storm season, so the image you see on the screen or the paper could be your reality with little to no warning. You might be stoic about the damage your walls, floors, ceilings, and other structural components might suffer because of the availability of replacement materials if restoration of all surfaces is not possible. What tugs at your heartstrings is the fear that irreplaceable photos, documents, heirlooms, toys, clothing, furniture, electronics, and more will not just be damaged but instead lost, ruined beyond repair.
Is There Hope for Flood Damaged Household Goods, Furniture, and Personal Possessions?
Flood damage in Jefferson does not discriminate according to the emotional value of the items harmed. Although you can try to move your things to higher ground when a flood threatens, the reality is your house is a home, a place where you eat, sleep, laugh, study, and work. It is impractical to store all items away from flooding that might not materialize. With many families using all possible spaces in their homes for living and remote working activities, rising floodwaters in your lower levels will affect your personal property.
How Can Professionals Complete Appropriate Flood Damage Remediation with All My Property in Their Way?
There are ways to manage flooding recovery even when a home is full of damaged contents, but SERVPRO often recommends a partial or full pack-out as a preferred option. We suggest this approach for several reasons, including:
Clearing the spaces affected by storm-related flooding makes it much more straightforward to complete pumping and extraction of the floodwaters
Removing wet contents also reduces the humidity levels in the affected spaces, making applied structural drying much more efficient once the liquid water is gone
Packing out items avoids the need for our on-site technicians to shift them numerous times during the project
Our production facility IICRC-certified technicians have numerous resources to clean, disinfect, dry, deodorize, and otherwise restore contents to functionality and appearance -- they are skilled in working with your insurance company to document claims for restoration or damages if articles are beyond help
I Am Already Stressed --How Do I Know My Personal Property Is Tracked and Secure?
We use a detailed and mostly digital Contents Claim Inventory Service (CCIS) to list and follow your individual items through the recovery process. CCIS uses the following to document the packed-out articles:
Written lists and checklists
Digital photography
Barcoding
Labeling of boxes or other containers
A dedicated space for storage of processed items in our climate-controlled warehouse
What Are the Innovative Interventions Used to Mitigate, Remediate, and Restore the Packed-Out Items?
Machines, tools, and other equipment located in our production facility are target to contents processing. We also maintain relationships with subcontractors for some unique treatments.
Freeze-drying under pressure for wet paper and photos -- uses a process called sublimation that removes water by skipping the liquid state between a solid and a vapor
Industrial washing and drying systems for clothing, textiles, and other soft items
Small contained chambers for cleaning, deodorizing, and drying padded and upholstered furnishings
Small contained chambers for drying electronics, avoiding reaching the dew point by manipulating air movement, humidity, and temperature -- electronics checked by a specialist to ensure proper function before storage or return to you
Immersion tubs for cleaning and disinfection of solid loose items
Ultrasonic machines and tanks for durable loose items encrusted with dirt, grime, or infectious waste -- this technology uses sound waves to loosen debris through jets of microbubbles and superheated solution
How Do the Packed-Out Items Return to My Cleaned, Sanitized, and Dry Home?
Our crews have monitored and updated the location of all items throughout the off-site water damage restoration process. The boxes and other containers are checked off against the inventory before loading to transport back to your house. We take great care to return the items to their place of pride in your home.
Rely on the comprehensive training and experience of the SERVPRO of Dover / Stillwater team when flood damage disrupts. Call (973) 810-2825 to set storm damage and flooding right.