How Can Business Owners Perform Mold Removal in Dover?
4/19/2021 (Permalink)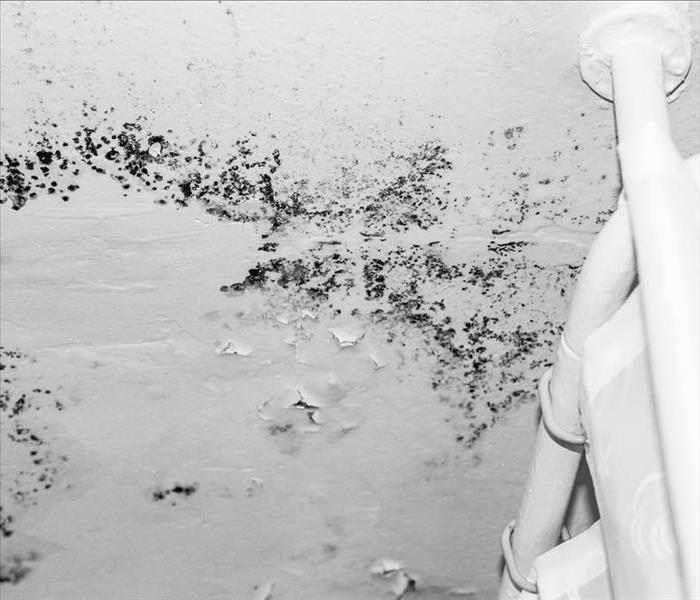 Mold remediation should be left to the professionals at SERVPRO. IICRC certified techs are ready 24/7 365 days a year.
They Can Hire a Professional Restorer like SERVPRO to Help With Commercial Mold Removal in Their Dover Business
Mold damage in a business can cause significant damage and affect its operation. It can damage your inventory, and your staff can develop health issues if restoration is delayed. Business owners can avoid these issues by hiring professional restorers like SERVPRO.
What causes mold growth to occur in a business?
Excess moisture in dark areas may lead to mold growth within 24 to 48 hours. If mold removal in your Dover business is not handled on time, it can continue to spread to other areas with moisture.
Some of the issues that can will excess moisture in a commercial property such as an office building include:
Burst pipes
Ceiling leaks
Leaking roof from storms
Some water sources may be difficult to stop. However, if well ventilated, the chances of mold growth occurring are minimal.
How SERVPRO restorers handle mold removal
SERVPRO restorers act fast since we understand how quickly mold can spread and the damages it can leave behind. We begin by conducting a thorough inspection to determine the severity of mold damage in a commercial property. We can use inspection cameras to check confined areas that can be expensive to repair, such as the duct line.
We prefer the equipment since:
No destruction to the building
Inspect more areas in a brief period
Inspects hard to reach areas
We have access to the most advanced products that help us remove mold in the affected area. We can use sporicides to kill the mold. They are disinfectants that act against fungal spores and bacteria.
SERVPRO of Dover / Stillwater has the skill and hi-tech equipment to handle mold removal to make it "Like it never even happened." Call us today at (973) 810-2825.