Don't Let Flooding Cause Immense Damage to Your Dover Home – Call SERVPRO for Cleanup Services
11/15/2020 (Permalink)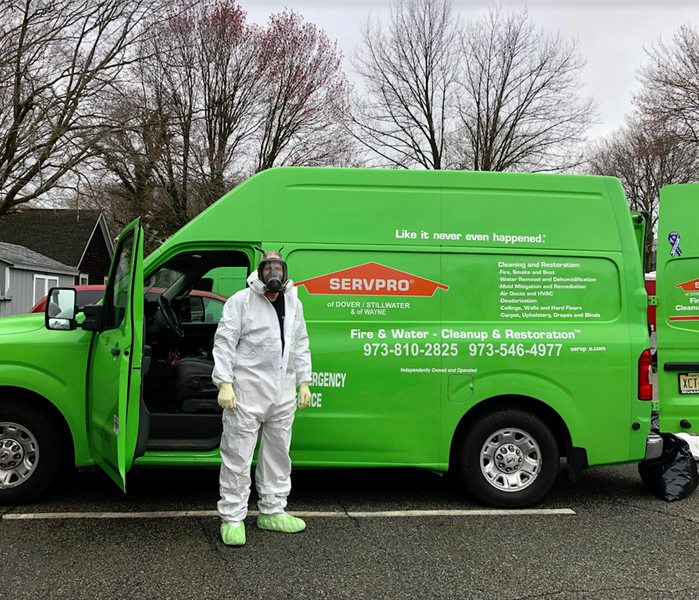 Our team is on the scene within hours after your emergency call. Contact Team SERVPRO if your home is facing flood damage.
SERVPRO of Dover/Stillwater is Available 24/7 to Assist with Flooding Cleanup to Lessen the Onset of Secondary Damage
Located along the Rockaway River, Dover is a town within the Morris County region within the state of New Jersey. Situated a little over 30 miles to the west of New York City, NY, this town has a population of just over 18,000, according to 2010's United States Census. Overall, the town of Dover is mostly a minority community, with roughly 70% of the population being of Hispanic descent.
Dover is Rich with History
In 1713, Joseph Latham was given the deed to the land that is now known as Dover, New Jersey. This came from parcels of land purchased from local Native Americans during the acquisition of West Jersey. In 1722, Mr. Latham and his wife deeded over 500 acres to a man from Flushing, New York, by the name of John Jackson. Jackson took to settling on an eastern portion of his land situated on Granny's Brook. This is the site that would eventually turn into Park Heights Avenue at the Ross Ribbon Factory location.
Incorporated back in 1869 as a town in Randolph Township, Dover then became totally independent in March 1896. In May of 1896, Dover then received reincorporation as a city. Throughout Dover, early years saw immense popularity with mining iron ore. Many points along the Mine Hill area at Dickerson Mine is where a majority of the local iron ore was harvested. The iron ore was then taken to Jackson's Forge, where it would get processed into bar form, then taken off to industrial areas like Paterson, New Jersey, and other locations for purchase.
Throughout the past, Dover thrived from an economic standpoint with avenues such as:
Bridge works
Mill works
Stove works
Range works
Furnace works
Machine shops
Drill works
Rolling mills
Silk mills
Knitting mills
And more
Current Day Parks and Rec in Dover, New Jersey
There are plenty of notable historical locations and beautiful outdoor settings that visitors and locals to the Dover area can enjoy regularly. Some of the renowned parks and recreational areas in the region include:
Water Works Park – Here is where you will find picnic areas along the Rockaway River, a baseball field, and various walking trails.
Hamilton Field – This is a popular recreation center located in Dover that is home to soccer fields, a historical walking and jogging cinder track, and a football field complete with bleachers.
JFK Memorial Commons Park – As a popular park and gathering spot for locals, JFK Memorial Commons Park is home to the annual Christmas Tree Lighting ceremony, Halloween parades, Easter egg hunts, town parades, ceremonies, and summer concerts. The park took on the name after the assassination of President John F. Kennedy that took place in 1963.
Mountain Park – Located on the historical Munson Mine Tract, this park in South Dover is quickly becoming a hot spot for some of the best hiking trails in the area.
Never a Shortage of Entertainment and Activities in Dover
Whether you are searching for a great place to enjoy a night out on the town with friends or something you can do to make memories with your family, Dover, New Jersey, is rich with plenty of attractions and entertainment outlets.
Dover Little Theater: Located on Elliot Street, this charming 100-seat theater was established in 1933. This arts and entertainment venue is known for bringing seasonal productions and a broad range of events to the town.
The Baroque Orchestra of New Jersey: Located on Herrick Drive and nestled amidst plenty of great restaurants and local watering holes, this is the ultimate venue to visit when you want to experience specialty concerts, young artists, and a variety of musical stylings.
Marcade Family Fun Center: Located on US Route 46, this Dover arcade is outfitted with many of the classic games that you may remember from the 80s and 90s. Families with kids of all ages are welcome to come by and play by the hour to enjoy plenty of fun, rich nostalgia while in a comfortable and welcoming environment.
Notable Weather Events in Dover, NJ, and the Surrounding Region
Taking a look at the average weather conditioning in Dover, the summertime brings wet weather that is often warm and humid. Throughout the winter, there are freezing temperatures, storms, and the skies are often partly cloudy. The wettest season spans across March to August, with about 29% of a chance of precipitation. Significant storms throughout the years, including Hurricane Sandy of 2012 and Tropical Storm Irene of 2011, residents of the area encountered considerable wind, rain, and snowfall that brought mixed levels of damage. With a barrage of fallen wires, toppled utility poles, damaged roofs, and downed trees, the need for emergency flooding cleanup in Dover was more vital than ever.
Times of Uncertain Weather Events or Internal Clean Water Incidents in Dover, NJ Calls for Skilled Flooding Cleanup – SERVPRO is Here to Help!
Whenever you have flooding in your home, you want fast, dependable, and experienced technicians there as soon as possible to get to work. Your Dover home deserves nothing but the best technology and proven methods to quickly and efficiently get the job done. At SERVPRO, we have a Green Fleet of vehicles stocked with all of the industrial-grade equipment and powerful cleaning products to restore your property to preloss condition.
Some of the most common calls we receive for flooding cleanup in Dover include:
Overflowing toilets
Malfunctioning appliances
Leaking or broken pipes
Storm floods
Sewage backups and more
Once you call us for restoration services, we send out a crew as soon as possible to initiate an assessment. Our crew chief puts together a plan of action that limits the onset of secondary damage while protecting your home and family from the potential start of harmful mold and bacteria. Everything comes together to leave no trace of moisture so that your interior is "Like it never even happened."
Call on SERVPRO of Dover/Stillwater at (973) 810-2825 if you require an emergency response for flooding cleanup. We are available 24 hours a day to bring you the prompt, reliable cleanup and restoration services that you deserve.