Why is Fire Damage so Tough to Clean?
10/22/2020 (Permalink)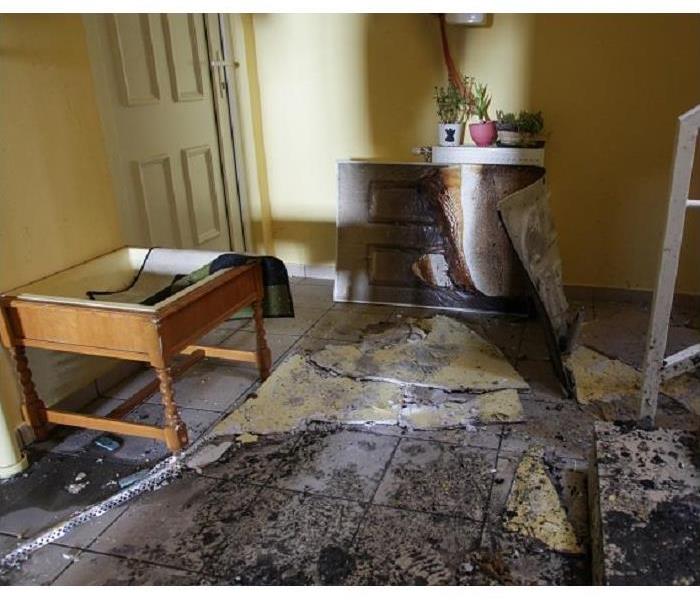 Although this fire was confined to the foyer, the smoke and soot damage throughout the house was significant.
SERVPRO Fire Restoration Technicians in Dover Face Many Different Challenges when Tackling a Recent House Fire. We Undergo Specific Training and Qualification for Cleaning a Fire-damaged Structure
Why are smoke residues different throughout the home?
Fires cause hundreds of chemical reactions in your Dover home. How these different interactions occur can be an influential factor in the type of losses found in a home. There may be any combination of wet smokes, protein fats, grease residues, or odor-causing particles in a fire loss site. SERVPRO technicians are on hand to help you recover from a home disaster. Whether using our knowledge and testing equipment to produce a time estimate or using industry-leading equipment to restore precious items, we are confident of returning your home to its preloss condition.
Can moisture affect the number of fire losses?
Moisture can cause residues like dry smoke to set into surfaces, particularly textiles or soft furnishings like mattresses.
Sprinklers or other fire-fighting equipment can make a fire loss site much harder to restore and requires immediate mitigation.
Damp in the property or condensation can further complicate a fire loss site.
Why are there splatter effects on some areas of the home after a fire?
The splattering effect of that can be found during fire restoration in your Dover home results from impingement. Impingement can occur when air-movement reaches high velocity, and smoke rushes through the property. As smoke residues collide with walls, they leave behind a splatter effect. SERVPRO technicians can pre-test these residues to understand the type of soiling and pH balance of the residue. Using chemical agents and solvents, we can dissolve these stubborn soots and rinse the wall using a detergent. Sometimes, odor sealants are applicable and can provide a clean base paint for wall repainting.
What factors affect cleanability in fire restoration?
The age of surfaces can play a role, with older ones typically becoming more porous and more susceptible to smoke infiltration.
Air-pressure can lead to driven smoke due to the expansion of hot air within a property. Driven smokes can penetrate surface layers of walls or paintwork.
Temperature changes can cause oily smokes to form a film across surfaces, making them resistant to water-based cleaning agents.
The different types of smoke damages can affect surfaces' cleanability and require dedicated restoration technicians to clean appropriately. Contact SERVPRO of Dover / Stillwater at (973) 810-2825.