Is it Ever Possible to Get My Flooded Jefferson Home Back to Normal Since the Recent Storm?
6/14/2020 (Permalink)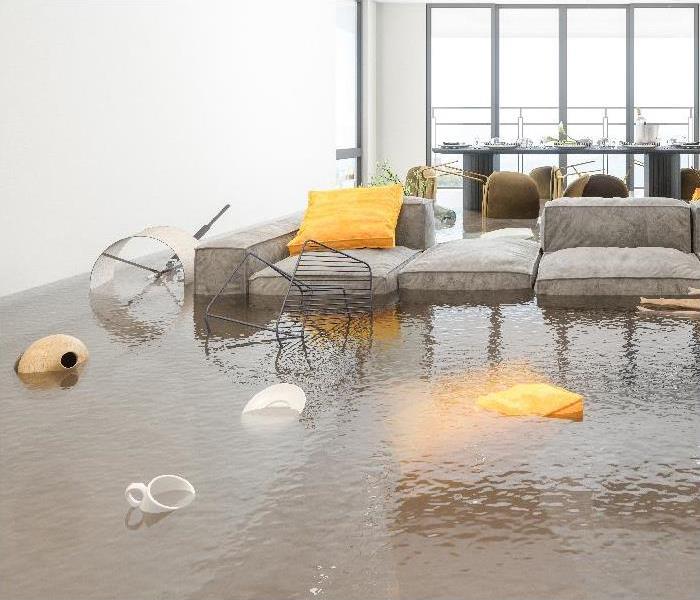 We always make it "Like it never even happened," when you call SERVPRO of Dover / Stillwater for flood damage services.
After Storm Flood Damage, SERVPRO Works Fast to Restore Your Jefferson Home to Pre-Loss Condition
Any water infiltrating your home's interior, especially with storm flooding, leaves behind a significant amount of damage. The water from a flood brings about the potential for a laundry list of contaminants. Working with trained water restoration technicians (WRT) is the only way to ensure you have safe, reliable cleanup. SERVPRO features skilled technicians that can arrive at your Jefferson property to start restoration within a few hours after the incident. We are available 24 hours a day, every day of the week, for emergency service because we are Faster to Any Size Disaster!
What Happens After I Call for Restoration?
Handling flood damage in Jefferson calls for a targeted approach. Once we arrive, your interior must get thoroughly assessed so that we may determine the full extent of the loss. From there, our crew chief formulates a plan of attack for flood water removal, followed by the remainder of our specialized restoration steps. Safety hazards are always at the forefront of our minds when addressing floodwaters, so our team takes precautions before starting remediation and restoration. The following is a sampling of standard steps to ensure safety and efficiency with any flood loss event:

• Examining various areas of your interior to ensure that there are no electrical hazards
• Floodwater testing to determine the level of contaminants
• Ground-fault circuit interrupters (GFC) get put on specific electrical equipment
• Technicians dress in personal protection equipment (PPE)
• We take special care when searching for hidden moisture pockets and other areas susceptible to mold growth
What Happens During Flood Cleanup and Restoration?
SERVPRO follows proven guidelines and protocols for handling water restoration and flood loss events. We put a plan into action and have professional-grade extraction tools and pumps at our disposal to quickly and efficiently remove immense amounts of water. Once the standing water gets picked up, we then follow a formula that tells us how many drying units to set up throughout your Jefferson home. Options available to us include:

• High-powered industrial fans
• Centrifugal air movers
• Dehumidifiers
Will DIY Methods Work to Clean Up After the Storm?
Even if you have decent equipment on hand to start cleaning your interior, DIY is never a match for the industrial-grade tools and advanced equipment that our Green Fleet comes stocked with. Our centrifugal air movers boost airflow in the loss zone, allowing embedded moisture to rise. The dehumidification equipment takes it from there, capturing the remainder of the moisture flowing through the air.
How Do You Find Hidden Moisture Pockets?
It is essential to locate and address all hidden moisture so that mold and mildew do not develop. Our team works to provide rapid cleanup, including moisture detection services. If water made its way into your walls, under flooring, and behind your baseboards, we have professional detection tools to find it. A sampling of our detection tools include:

• Moisture sensors
• Moisture meters
• Thermal imaging camera technology

Along with rapid water removal, we also deep clean all surface areas and disinfect using EPA-registered anti-microbial agents. Throughout the drying process, we also continually reposition our dehumidifiers, heaters, and air movers until we can get regular readings from our moisture detection tools.

In some instances, it may be necessary for our technicians to perform what is known as controlled demolition to complete the restoration process. During this time, we may perform flood cuts several inches above the water line to remove damaged sheetrock. It then gets replaced with brand-new materials and finished off to ensure the walls look as they did pre-flood.
What About Carpeting in My Home?
Each flood restoration project gets treated on a case-by-case basis due to the nature of floodwater and the presence of potential contaminants. We can test the materials to determine the contamination levels, which tell us whether your carpet and carpet padding is salvageable. If cleaning is not possible, we remove the wet carpet and all padding below. We then treat the subfloor beneath, ensuring everything is dry to inhibit the onset of fungal growth.
We Leave Your Interior Fresh, Clean, and Deodorized
Damp, musty smells are common with any water loss incident. If not addressed appropriately, this smell could linger and become a constant reminder of the flooding. Our crew uses EPA-registered disinfectants and cleaning agents to sanitize your home thoroughly. However, we also have a range of professional-grade equipment to help us facilitate deodorization, including:

• Air scrubbers
• Thermal fogging
• Air filtration devices (AFD), and more

We always make it "Like it never even happened," when you call SERVPRO of Dover / Stillwater for flood damage services. To have a crew deployed to your property once you get hit with storm damage, give us a call at (973) 810-2825.