Your Best Guide to Water Removal in Hopatncong
12/8/2019 (Permalink)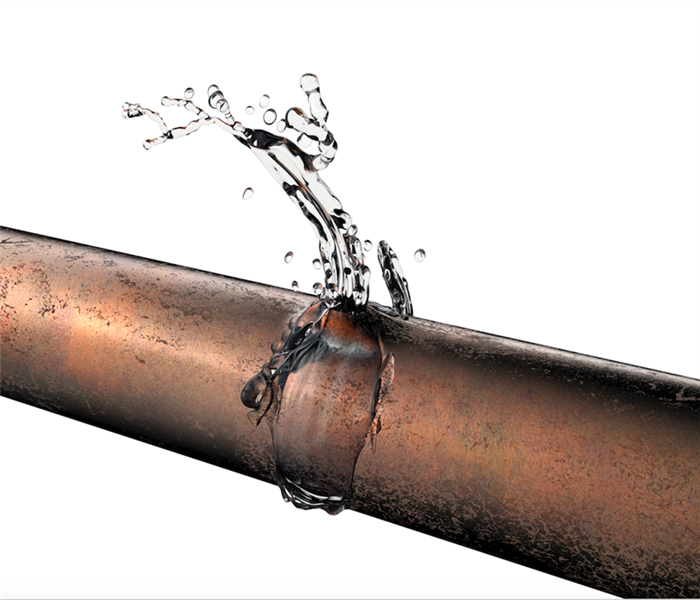 Broken or cracked pipes can cause extensive water damage in your home. Contact SERVPRO for water removal and remediation services.
Our Capacity to Work Fast and Handle Large Quantities is Why SERVPRO Receives High Marks for Hopatcong Water Removal
The amount of water that can spill into your Hopatcong home after an appliance malfunction or a broken pipe can be substantial. Cleaning up is not a job for a mop and a bucket, or even a household shop vac. When we respond to a water loss, our project manager takes the time to review precisely what extraction equipment in our inventory would be the best fit. Matching tools to projects is why we pack our service vehicles with a range of options.
Pump or Extractor?
When beginning a Hopatcong water removal job, a threshold question is whether to use a pump or an extractor. Pumps can be submerged, and work most efficiently when the water depth is more than two inches. The pumps we use are often gas-powered, why we can get to work on right away even if power has been temporarily disconnected. We position pumps and then allow them to operate, disposing of water into a treated sewer line. A pump does not need to be swept across a surface, making it a gentler, less disruptive way to remove water when compared with wands and extractors.
Portable or Truck Mounted?
If our truck-mounted equipment can reach the standing water, using it allows continuous use until the water is evacuated in most cases. We either run a hose to a treated sewer line or contain the water if contamination is an issue, suctioning it into a storage tank that can hold 60 to more than 100 gallons. If needed, the truck-mounted pump can operate off generator power. When confined areas or spaces far from our vehicle need extraction, portable exactors are an option. Flexibility is why SERVPRO stocks both types of extractors, ensuring your particular water removal needs are met.
Extraction Before Drying
The ultimate goal of our crew is to leave your home clean and dry. Structural drying takes place only after we have extracted all possible liquid water, including from building cavities and beneath floorboards. Extraction is 1200 times more efficient than drying equipment alone, why SERVPRO prioritizes its completion prior to structural drying.
Our expectation that our team is well-equipped and prepared to rid your home of water is why SERVPRO of Dover / Stillwater proceeds to a successful conclusion with confidence. Your call to (973) 810-2825 delivers what you need after a water loss.
Click here for more information about Hopantcong.