We Offer Fast Cleanup Action In Jefferson After A Flood
8/8/2019 (Permalink)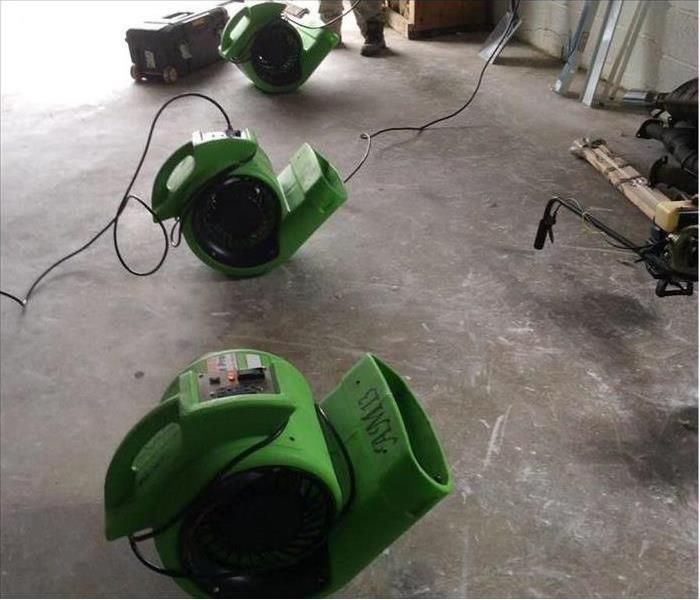 If flood damage is not addressed within 24 to 48 hours it can cause secondary damage such as mold to begin to develop. We arrive right away.
Yes, Sometimes Insulation Can Be Saved From Flood Damage in Jefferson Homes
It feels overwhelming enough when a strong storm drops a tree branch on your roof and water pours in. It is even worse when the rainwater runs through the fiberglass insulation and soaks the ceiling in the room below. Fast attention can turn this situation around and limit loss.
Because airborne mold spores can begin to germinate as fast as 24 hours after a flood damage event in a Jefferson home, cleanup should occur quickly. When SERVPRO technicians arrive on-site, one of the first actions our team members do is to tarp over the damaged roof area to inhibit any further entrance of water to the house.
Attic spaces often present a particular challenge for flood damage cleanup due to the fact space is often limited. One of the key elements for drying an attic is the removal of the fiberglass insulation. Our technicians have specialized attachments on their commercial vacuums that let them pick up the insulation for drying and preparation for reinstallation if the homeowner chooses.
During the drying phase, there may not be room to bring in our air movers, and we create configurations with hoses running from the air movers into the attic to deliver warm, dry air. If the water ran from the attic into the floor joists and the ceiling below, we have drying mats to force air into the area and assist with complete drying.
Once the attic attains pre-set drying goals, our technicians perform the following functions:
Thoroughly hand clean the area to inhibit the growth of mold, bacteria, and odors.
In some cases, antimicrobial sealant around the damaged area further makes the area inhospitable to mold growth.
If water odors remain, we apply different methods to neutralize them.
Flood damage in your home does not automatically mean a complete loss. With fast cleanup action, our technicians assist homeowners every day by minimizing water loss. Call SERVPRO of Dover / Stillwater at (973) 810-2825, and we can make the water damage in your home, "Like it never even happened."
See more about Jefferson.