An Old Water Pipe Burst and Caused Water Damage in a House. Who Can Help to Restore it?
9/18/2020 (Permalink)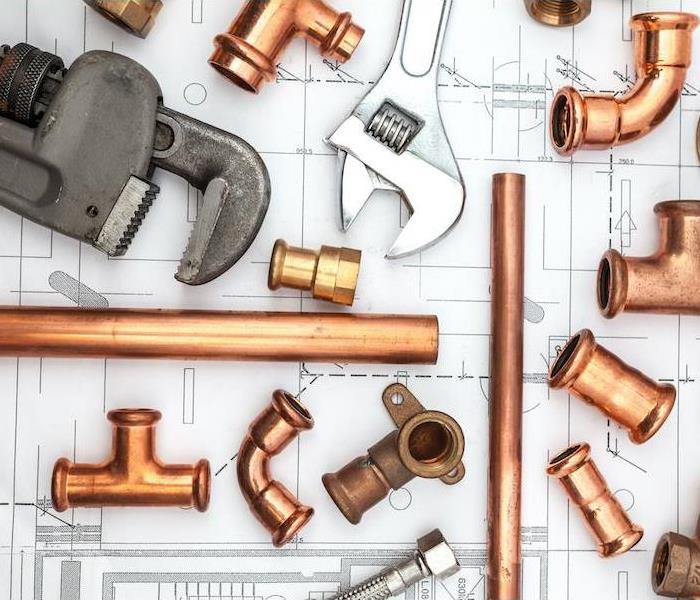 Homeowners have to deal with many things which may include water damage from a burst pipe. Contact SERVPRO right away for assistance.
Talk to SERVPRO Technicians to Help Perform Water Extraction in Dover Properties.
Water is among the substances that can potentially cause substantial destruction in Dover homes. Property owners that have suffered severe water leaks should engage with professional restorers to extract water from their property. SERVPRO technicians can stop water from seeping deeper into various surfaces and get your property back to the original condition it was in.
What is water extraction?
Water extraction in a Dover home is a process where technicians remove standing water from the structure and dry the affected surfaces. We have experienced technicians who specialize in water extraction to prevent additional damage after a water intrusion incident occurs. During the process, our goal is to minimize water damage but also:
Minimize the chances of permanent damage.
Prevent mold growth that can pose serious health effects.
Restore your property to its pre-damage state.
Why should I hire SERVPRO?
Before getting in contact with the affected surfaces, it is essential to note that standing water from a burst pipe can cause health issues. As the water flows on various surfaces, it gets contaminated along the way. Water has a destructive effect on a majority of contents and building materials. That is why it is best to let professionals perform water extraction and salvage your valuable items. We have the training, specialized equipment, and expertise to restore water-damaged structures. Our technicians are knowledgeable about the technical aspects of water restoration and can also communicate effectively with you, your adjuster, and the insurer.
How do you check for moisture?
When we get to your property, we find the water source and shut it down. Since water can flow into hard-to-reach areas, we can use our advanced equipment to identify areas with a high moisture level. Our technicians can use infrared cameras to see how water traveled. We can also use a luminometer to test surfaces and water for organic contamination. This information helps us develop a customized restoration plan and a detailed estimate for our customers.
How do you remove the standing water?
Water extraction is an essential process that helps speed up drying. We typically utilize specialized equipment like electric submersible pumps to remove it. Extracting excess water in the affected area helps stop the spread of primary and secondary water damage. After completing the extraction process, our technicians can dry your home thoroughly using air moving and dehumidifying equipment.
With the help of SERVPRO of Dover / Stillwater, you can have a mold-free and clean home after water damage. Talk to us today at (973) 810-2825. We're Faster To Any Size Disaster.