We Have The Proper Techniques To Restore Your Jefferson Home After A Flood
9/17/2019 (Permalink)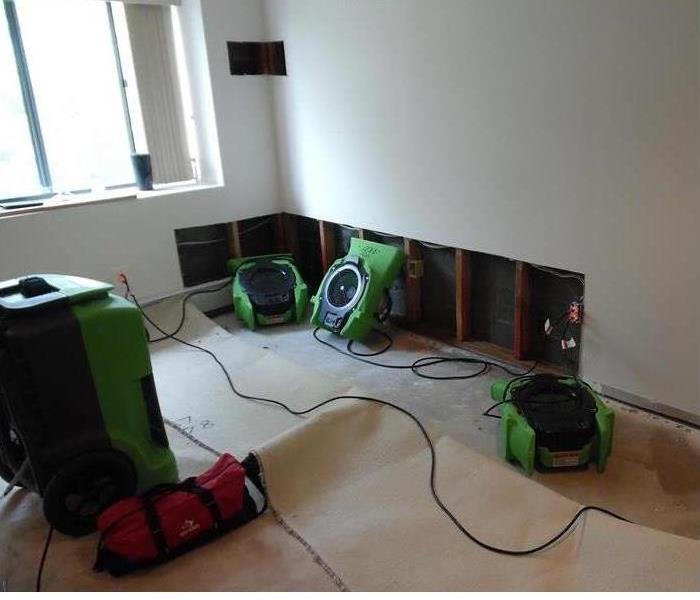 Cutting out drywall to a few inches above the flood line helps us make proper repairs to your home after a flood.
After Flood Damage, We Pump Out Water, Dry Interiors, and Sanitize Homes in Jefferson
Powerful storms that drench the area around Jefferson can leave sewer systems overflowing in various locations. City streets and side roads are not the only sources of the flooding, however. Creeks, streams, and ditches can send overflowing water into your neighborhood.
After a disaster, SERVPRO helps out in the community by assisting residents in Jefferson cope with flood-damaged houses. We know that the flooding affected more than your house. We help people find local resources that can make a big difference in how a family's post-flood experiences shape their future.
When we first arrive at a flood-damaged house, we spray exposed and contaminated surfaces with a disinfectant. This reduces the amount of cross-contamination that might otherwise happen during our initial cleanup efforts.
We methodically pump any remaining water from the lowest portions of the home with submersible units, taking care to check for signs of stress in the foundation. Carpets get cut into sections for quick disposal, and we do the same with portions of drywall about six inches above the flood line. We pull ruined appliances, furniture, and other large items out of your home and place them outside for disposal.
After removing the water and items retaining large amounts of it, we need to start working on drying things out more thoroughly. We can do this even if the area's electrical power is out. Box fans and dehumidifiers pull floodwaters from out of the wood frame and allow us to apply antimicrobial agents. We use our Injectidry systems to dry out flooring, wall cavities, and other enclosed areas.
Drying can take a while, as can cleaning up each item. However, the more work we do with these methods, the less you must replace. Restoration is often the least costly of the two options. As soon as the interior becomes dry again, we re-apply a disinfectant to ensure that everything that might cause health effects in your family members no longer poses a threat.
SERVPRO of Dover / Stillwater knows how vital a fast recovery is after a disaster. When flood damage keeps you from living in your Hopatcong, Stanhope, of Mt. Arlington residence, a quick call to our 24-hour service line, (973) 810-2825, can help make everything "Like it never even happened."
See more about Jefferson.